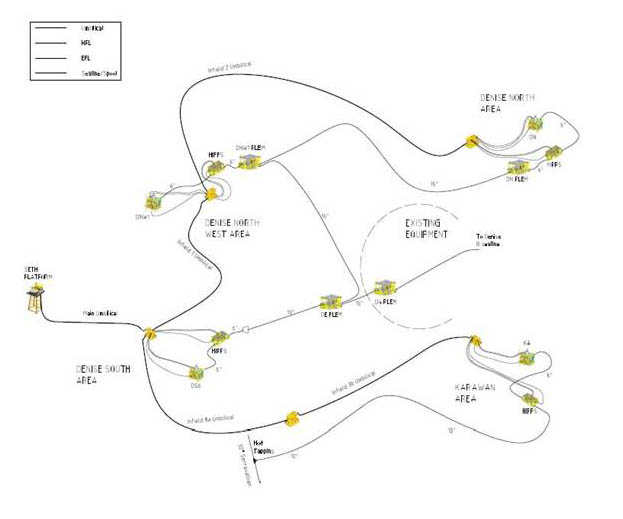 DEKA FIELD DEVELOPMENT PROJECT
In December 2012 STM had been requested to quote the design and engineering for # 5 umbilical lays for the Subsea Production System of DEKA field, offshore Egypt.
The Denise field is about 70 km off the Egyptian coast in water depth of about 100 m
Karawan field is in water depth about 68 m about 60 km off the Egyptian coast.
The umbilical system consists of five electric hydraulic different cross sections spanning from 4.5 to 7.5 km long.
Engineering services required span from the assistance in defining the spreads for the installation, to assistance for umbilical section spooling onto the installation reels at manufacturer yard: Perform structural check for reels transportation up to contractor site, design foundation support for umbilical termination assembly, check arrangement of the equipment on board the floater selected for the marine operation and demonstrate floater acceptability to marine warranty surveyor through RAO calculation, analysis of floater motion and finite element analysis of deck strength.
Than demonstrate the feasibility of umbilical system installation consisting in lays, Tie-ins, lifting and handling of various loads.
This commitment shall be carried out by:
STM subsea specialists by extensive use of OrcaFlex (version 9.6a), the marine dynamics software developed by Orcina for static and dynamic analysis of offshore systems, including flexible marine risers
umbilical and structural designers by Algor FEM / FEA.